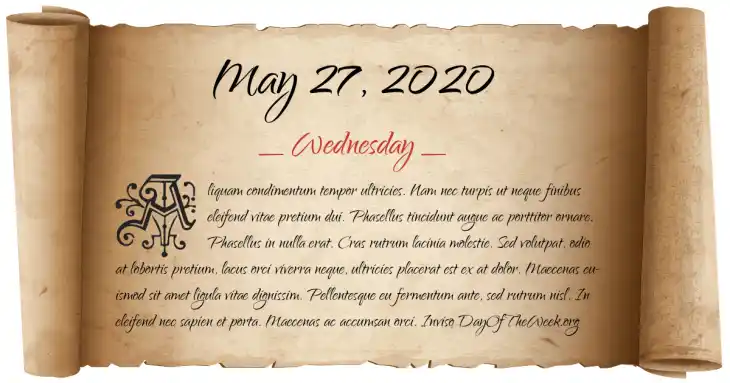 HI EVERYONE, WELCOME TO KPSCJUNCTION.IN

THIS IS OUR SITE WHERE YOU WILL GET ALL KPSC AND UPSC STUDY MATERIALS, OLD QUESTION PAPERS, AND MODEL QUESTION PAPERS REGARDING ALL UPCOMING COMPETITIVE EXAMS

OUR SITE ALSO PROVIDES ALL STATE AND CENTRAL GOVERNMENT JOB NEWS AND NOTIFICATIONS WHICH WILL HELP FOR YOU
27 MAY CURRENT AFFAIRS 2020:
1.World Thyroid Day: 25 May
World Thyroid Day is observed globally on 25 May every year.
The main purpose of the WTD is to be aware of the importance of Thyroid and the prevention and treatment of thyroid diseases.
The thyroid is a butterfly-shaped gland in the throat that produces T3 (Thyroxine) and T4 (Triiodothyronine) and maintained by the Thyroid-stimulating hormone(TSH).
It regulates the metabolism of the body and abnormalities in this may cause dysfunctioning body systems.
2.57th Africa Continent Day: 25 May
On 25 May 2020, the African continent marked the 57th anniversary of the establishment of the Organisation of African Unity (OAU).
The day is marked annually as Africa Day.
The OAU was established on 25 May 1963 with the aim of promoting political, economic and social integration among the family of African States, and to eradicate colonialism, apartheid and neo-colonialism from the African continent.
The organisation was transformed into the African Union on 09 July 2002 in Durban, South Africa, to achieve greater unity, cohesion and solidarity between African countries and nations.
3. Former SC judge Justice Sikri inaugurates Indian Dispute Resolution Centre
Former Supreme Court judge Justice A K Sikri has inaugurated the Indian Dispute Resolution Centre (IDRC), which provides a paperless dispute resolution environment.
The centre offers offline as well as e-alternate dispute resolution (ADR) facility through its state-of-the-art e-arbitration, e-meditation and e-conciliation software portal.
It provides a completely paperless dispute resolution environment.
The IDRCs are located at strategic commercial places in the country with its head office in Connaught Place in New Delhi.
4. Gadkari inaugurates breakthrough event of Chamba Tunnel under Chardham Pariyojana
In a boost to the Rs 12,000 crore ''Char Dham'' project to connect Gangotri, Kedarnath, Yamunotri and Badrinath, the Border Roads Organisation (BRO) has achieved a milestone in construction of a tunnel below the densely populated Chamba town on Rishikesh-Dharasu road (NH-94) in Uttarakhand.
Latest Austrian technology has been used in construction of the Chamba tunnel.
The tunnel will be through for traffic by October 2020 almost three months before its scheduled date of completion of January 2021.
The 6 km road and 450 metre tunnel is being constructed at a cost of Rs 88 crore.
5.India helps Uganda to set up military war game centre
Indian Association in Uganda, with help of the Indian Military training team, set up a military war game centre in Jinja district.
Ugandan President Yoweri Museveni inaugurated the war game centre conceptualised by Indian military team for Uganda Peoples Defence Forces (UPDF).
The war game centre is named 'INDIA' and is a type of strategy game that simulates warfare realistically, as opposed to abstract strategy games such as chess.
The war game centre, constructed with an amount of over 1 billion Ugandan Shillings ($265,000), has been funded by voluntary contributions from Ugandans of Indian origin.
6.Govt appoints PK Nair as envoy to Niger
The government announced the appointment of Prem K Nair as Indian Ambassador to Niger.
Mr Nair is currently posted as Consul General of India to Hambantota
He is expected to take up the assignment shortly.
Niger is a landlocked country in West Africa named after the Niger River.
Capital: Niamey
Currency: West African CFA franc
7.Japanese pro wrestler Hana Kimura dies aged 22
Japanese professional wrestler Hana Kimura died at the age of 22.
While the cause of death is yet to be ascertained, Kimura had posted a number of troubling social media posts in recent days.
Kimura is said to have been the target of hundreds of abusive tweets on a daily basis.
Kimura began her professional career in 2016 when she played in Wrestle-1 against classmate Reika Saiki in a losing effort.
Kimura was featured as a cast member on the Netflix reality series "Terrace House: Tokyo,".
8.In a first, Indian Army Major to be honoured with UN Military Gender Advocate award
Major Suman Gawani, an Indian Army officer and woman peacekeeper who has served with the United Nations Mission in South Sudan (UNMISS), has been selected for the prestigious United Nations Military Gender Advocate of the Year Award (2019).
She has been awarded for her outstanding contribution to peacekeeping efforts in the UNMISS.
This is the first time that an Indian peacekeeper is being given the UN Military Gender Advocate award.
Created in 2016, the award honours the dedication and effort of individual military peacekeepers in promoting the UN principles on Women, Peace and Security in peace operations as nominated by Heads and Force Commanders of peace operations.
Major Gawani was scheduled to visit New York for the award ceremony but due to COVID-10 pandemic, she will receive the award during an online ceremony.